How to choose the table that is right for you
It isn't always easy to make a choice, given the variety of tables available. But it's actually easier than you think. Asking yourself the right questions is key. To help you make the right choice, follow our short guide.
DO YOU PLAN TO PLAY OUTDOORS, OR ONLY INDOORS?
Indoors, outdoors, or both? Our indoor and outdoor tables correspond to a different design philosophy. The big difference between them is the material used for the playing surface. Indoor tables have a chipboard table top while outdoor tables are made of core laminate, also called HPL (High Pressure Laminate).

Indoor tables are not built to withstand impacts or poor weather conditions, so they must not be used outdoors, unless you go to great lengths to protect them. Outdoor tables are much more resilient and can be used either indoors or outdoors. They are recommended for indoor use too, especially if you think they might have to withstand a few knocks and bumps over the years.
WHY CHOOSE AN OUTDOOR TABLE
For playing table tennis outdoors, of course, but not just that. Designed to withstand poor weather conditions and impacts, outdoor tables are much more robust. The core laminate table top is exceptionally sturdy. Rain, snow, racket impacts - it stays the same whatever you throw at it. The other materials used in the design of these tables are also ultra-durable. Examples include the steel parts covered with anti-corrosion coating, and even the tiniest parts.
Cornilleau outdoor tables have a 10-year guarantee, and are enthusiastically recommended by almost 90% of table tennis players. These tables are equipped with oversize double wheels so they can be moved around easily on a broad range of surfaces. Their feet have also been designed to adapt to bumpy or sloping surfaces, so that your table is stable no matter what.
BENEFITS OF INDOOR TABLE TENNIS TABLES
Indoor tables, with their chipboard table top, offer excellent rebound quality at an affordable price. You should never expose them to poor weather because sunlight, extreme heat and especially humidity can cause the playing surface to blister or even become warped, which is fatal in terms of rebound quality. Indoor tables are less resistant - a racket hitting the playing surface will leave a mark. That's why many players opt for an outdoor table even if they plan to play indoors. Indoor tables have a 3-year guarantee (compared with 10 years for outdoor tables).
CRITERIAS TO CONSIDER WHEN CHOOSING YOUR TABLE TENNIS TABLE
Table tennis is a sport anyone can have a go at. When it comes to choosing the right table, there are many types of players. That said, Cornilleau tables all share a set of core characteristics - durability, safety, ergonomics and playing experience. Cornilleau tables are made in France, in Bonneuil-les-Eaux in the Oise département, in the same place as they are designed, prototyped and tested by our Research and Development department. Because we have full control over the entire production process, your ultimate playing experience is guaranteed 100% best-in-class.
PLAYING EXPERIENCE
Rebound quality is the major component of the playing experience, along with spin response. The thickness of the playing surface has a direct influence on the height - and therefore the quality - of the rebound. We believe that all players deserve very good rebound quality. For some seasoned players, the thickness of the playing surface is a major criterion. So for those players, who often play in a club setting, and for everyone who loves the rebound quality offered by chipboard table tops, Cornilleau outdoor tables have a core laminate playing surface with thicknesses of up to 8mm for the 700X (link to product), providing a rebound quality comparable to that of a competition table. Another component with a key role is the frame. The frame is the part that surrounds the playing surface. It supports the panel and allows it to remain perfectly flat over time. The thicker it is, the stronger the hold on the playing surface.
ANTI-GLARE COATING
For the best possible open-air playing experience, we advise you to look very closely at the type of coating applied to your table's playing surface. Cornilleau outdoor tables have been given anti-glare coating to make sure players are never blinded by the sun's rays. There are two types of coating, depending on the model. The Mattop finish applied to tables in the Performance range absorbs the intensity of the sun's rays and reduces their glare tenfold. The Softmat finish applied to tables in the Sport range reduces glare threefold.
SAFETY
European standard EN 14468 lays down the rules to be applied to guarantee a table is safe in both the playing position and the storage position. It also stipulates the characteristics of the locking system and wheels. Cornilleau made the decision to go way above the standard requirements, based on several innovations. As a result, most Cornilleau table tennis tables have 16 locking points rather than the 8 points required by the standard. This system offers a host of advantages, such as its ability to block the table at a 65-degree angle if the handle is no longer held while it is unfolding, to prevent it from crashing down.
DURABILITY
Given the size and cost, table tennis tables are not intended to be replaced frequently. Although all our outdoor tables have a 10-year guarantee as standard, we often receive messages from Cornilleau table owners referring to models they've had in their yard for much longer than that. Often, a Cornilleau table will be handed down from generation to generation. By guaranteeing the availability of replacement parts for at least 20 years, we do our bit to help you keep your table tennis table for as long as possible. To avoid any problems, make sure you read through the guarantees covering your table, which give you an idea of its lifespan.
STABILITY AND MANEUVERABILITY
Table tennis tables need to be perfectly stable while you play, and the same goes for the storage position. A model with brakes therefore has a clear advantage in terms of stability, compared with a model without brakes. Once unfolded, brakes are not the only feature that helps a table stay put. Legs also play an important role. We all know how easy it is to bang into the table while playing, when you're totally focused on winning the point. Tables with thicker legs are less likely to move in this type of situation, compared with tables that have thinner legs and a narrower structure.
So that you can move your table to the spot where you want to play, or to its storage location, it needs to be easy to handle and capable of being wheeled over uneven surfaces, or overcoming obstacles if need be. That's why Cornilleau outdoor tables have oversize double wheels that offer unrivaled maneuverability. Some models such as the 600X and 700X have an easy track handle that helps you lift them up steps and over other small obstacles.
FEATURES
Features serve a range of purposes - some greatly improve the ergonomics of your table, while others make for easier playing or add a touch of fun. Whatever the case, make sure you consider a table's features before making your choice.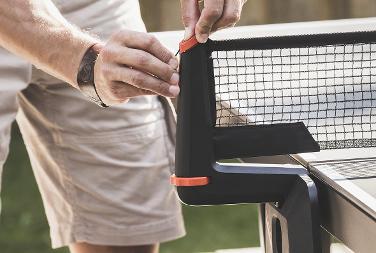 Net adjustment: tension or tension + height
Depending on the model, you can adjust the tension of the net or both the tension and the height. These two adjustments result in an even higher degree of precision, and once adjusted, your net will stay in place for longer.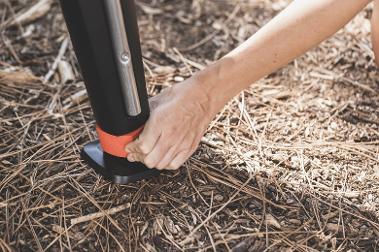 Feet adjustment
Some tables require you to lift the foot slightly when adjusting the height. Repeating this operation several times in a row, for each foot, can be a bit of a pain. That's why Cornilleau has developed a simpler adjustment system. The dial to be turned is not in direct contact with the ground, so there is no need to lift the foot up. No effort required!
DESIGN
A table tennis table might stay in your yard for 10, 20 or 30 years, so its appearance is another factor to consider when making your choice. With this in mind, our table designers took special care to create stylish tables that look good. Whether you prefer fine or bolder lines, there is a table to suit all tastes.
www.cornilleautabletennis.co.za
South Africa's leading supplier of table tennis equipment
for sport, home, play and education.
PAYMENTS
Secure online payments provided
by DPO South Africa, a leading Payment Gateway in South Africa - a payment service provider for businesses and individuals to accept payments online.
© cornilleautabletennis.co.za All Rights Reserved